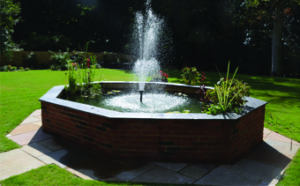 In any landscaping design, water features are necessary inclusions that will often have an impact on the overall layout. Since back then water features have been significant elements in the design of many gardens, both public, and private estates, and with numerous small courtyards in new unit developments in outer Johannesburg as well as inner suburbs' terraced houses styles suitable for smaller areas are in high demand.
Water features and fountains are at times the best focal point. The water sound gives a cooling feeling during the day and with the night's lighting, gives a flickering light effect through the trees canopy and the adjacent walls. Placed in a front entrance or courtyard, they can create a mood that is peaceful or be a dramatic statement, going by their design.
To make any garden attractive, one of the best approaches is through the installation of a water feature. For many years, water has been a fundamental inclusion in landscaping to offer a sense of tranquility through its movement and reflective characteristics. Both modern and traditional styles of water features are effective. Besides looking beautiful, they also play essential roles such as filtering or blocking noise from traffic, neighbors, or other sources of unwanted noise.
Our professional garden service in Johannesburg caters for garden water features and fountains of all styles to enhance your home's tranquility. From regular water features, made of sandstone or concrete, to natural ones. Our water features range varies from formal Grecian styles to natural rock cascades. From small wall-mounted designs suited for a courtyard to bigger water features suitable for gardens.
We're also available for additional garden water features:
– Garden water fountain
– Natural
– Rock pools
– Japanese design
– Bamboo water features
– Rock water features
– Wall water features
– Bird baths
With some thought and creativity, our experienced team always ensures the design will suit your specific needs; be it a larger established garden or a small courtyard. Contact us today on 087 551 0843 to discuss your preferred design or for other similar services like our reputable design and installation of Koi Ponds in Johannesburg.